---
SWEDISH DEEP MASSAGE
Perfect for relaxing those sore, tired, overworked muscles and aid in the bodies natural healing process. This type of massage can help reduce tension and anxiety. It will also calm the nervous system and promote a sense of relaxation and well being.
TREATMENT OPTIONS:
25 Mins | £28.00
40 Mins | £33.00
50 Mins | £40.00
SPORTS/DEEP TISSUE MASSAGE
Sports/Deep tissue massage includes specific massage techniques used in the most effective way to manage the rehabilitation of soft tissue. Massage can help reduce the effects of stress, tension, and everyday aches and pains promoting relaxation and general wellbeing. It is an effective tool in the prevention, treatment and management of soft tissue injuries and chronic pain. Sports Massage can aid the preparation and recuperation of muscle tissue for sports participants, encouraging optimal performance at all levels.
TREATMENT OPTIONS:
25 Mins | £28.00
40 Mins | £33.00
50 Mins | £40.00
---
STONE THERAPY
Stone therapy is a 'mind, body and soul treatment'.
The aim of which is to completely relax and revitalise. Using warm basalt stones and preblended aromatherapy oils, this treatment is both comforting and indulgent. The warmth of the stones provides a calming effect, resulting in a reduction of tension throughout the body and mind, perfect to relieve the stresses of everyday life.
TREATMENT OPTIONS:

FULL BODY | 70-75 mins (inc. Cold Stone) | £44.00
FULL BODY | 55-60 mins | £39.00
UPPER BODY | 40-45 mins | £35.00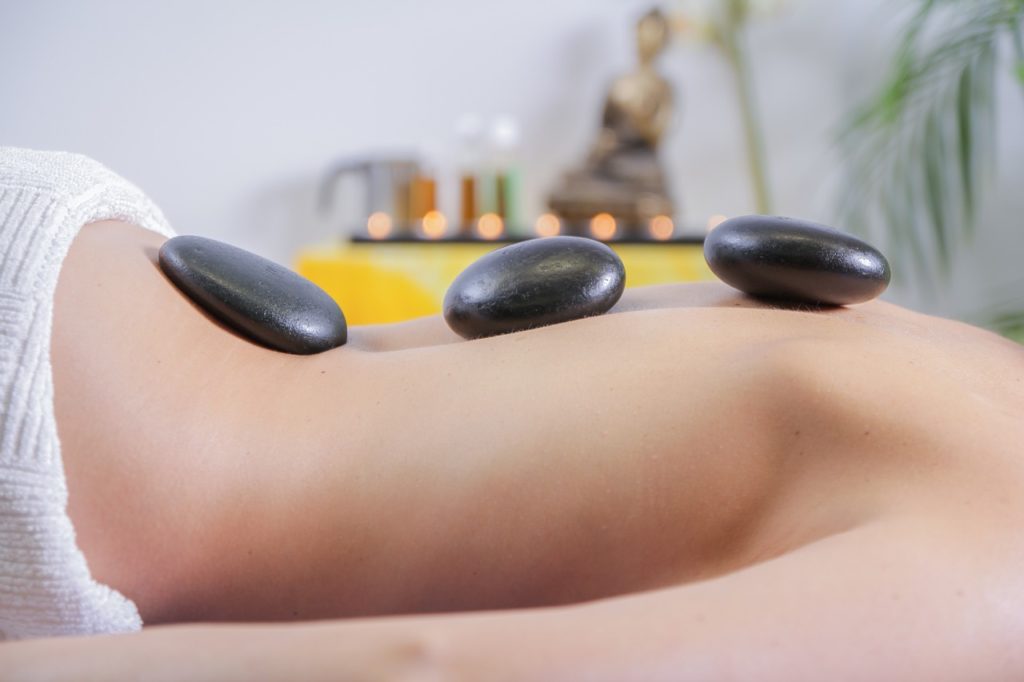 ---
Alternative Therapies
REFLEXOLOGY
Reflexology is a holistic foot treatment that is suitable for all ages. Reflexology works on the principle that the organs and systems in the body are reflected in the pressure points on the hands and feet. By pressing specific pressure points on the hands and feet this treatment can bring relief from a wide range of chronic and acute conditions. Conditions such as Stress, Headache & Migraine, Back & Joint Pain, Digestive Problems, Sleep Problems & Hormone Problems to name but a few
TREATMENT TIME | 50 minutes | £37.00
INDIAN HEAD MASSAGE
A deep massage treatment that is concentrated specifically on the head, neck and shoulders. Using various techniques this treatment works extremely well to release stress, tension and negative energy from sore tired muscles. This treatment is an excellent way to relieve stress and will leave you feeling calm with renewed energy. A perfect treatment for anyone who
suffers from stress, tension headaches, sinus problems, sleep problems, facial tension and anxiety & depression
TREATMENT TIME | 50 minutes | £39.00
HOPI EAR CANDLING
This treatment offers real benefits and real relief from ear, nose, throat and sinus related conditions. The treatment is a deeply calming and soothing experience. Only the finest natural ingredients are used in the candles we use. A light massage to the face and scalp is used to finish and encourage lymphatic drainage.
TREATMENT TIME | 50 minutes | 38.00
---