All of us have been affected by the coronavirus (COVID-19) pandemic. We are living in very strange times and life will be quite different once we get to the other side. The worst thing for us is that we have missed being able to offer you the treatments that we know you love. We are delighted to announce that we have been given the go ahead to reopen from Monday 13 July 2020, albeit with some restrictions in place.
Booking Appointments
From Monday 13 July you can contact us via telephone 01289332060, email info@theretreatberwick.co.uk or social media @theretreatberwick to schedule an appointment.
Online bookings will remain closed at this time. All appointments must be made in advance. There will be no opportunity for walk in appointments. If you do not have a confirmed appointment please DO NOT visit the clinic.
If any of our staff feel ill or have symptoms of COVID-19, we will all self-isolate immediately and cease operation from the clinic. This may mean that we have to cancel your appointment at short notice. We appreciate that this may be inconvenient but it is done entirely for your own safety and you will have the opportunity to reschedule your appointment.
If you, or any of the people you live/work with, feel ill or display any symptoms of COVID-19 please advise us as soon as possible and DO NOT COME TO THE CLINIC FOR YOUR APPOINTMENT. We have amended the cancellation policy and charges are suspended in these circumstances. You WILL NOT be charged for a short notice cancellation relating to COVID-19.
We are aware that some of you may still be shielding or feel anxious about making an appointment at this time. That's absolutely fine – our main priority is for you to feel safe and comfortable.
Visiting the Salon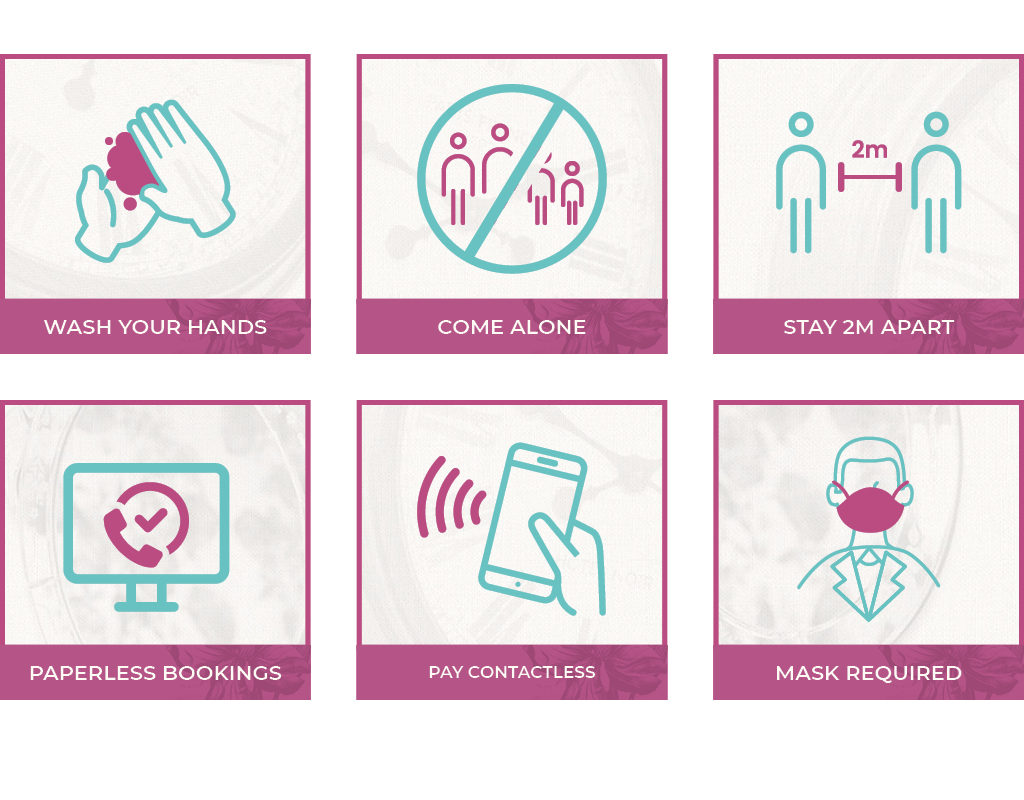 For your safety and to maintain social distancing, we ask that you attend your appointments as close to the appointment time as possible. Please do not turn up early for appointments as you will have to wait outside. The waiting area and reception will be closed and you will only be allowed in to the clinic at your allotted appointment time. At this point, you will be asked to place your personal items into the plastic box provided at either "Bay 1" or "Bay 2" (these will be disinfected between clients). You will then sanitise your hands, lift your box and be taken to the treatment room.
We have increased the frequency of cleaning in the clinic including making sure that common surfaces, toilets door handles etc. are wiped clean using disinfectant products between each client, therefore appointments will be more staggered than before. There will be a minimum of 30 minutes in between all appointments to allow for cleaning. This may change in accordance with government guidelines.
Whilst we have never actively encouraged anyone bringing their children to an appointment there have been rare occasions when this has been unavoidable. From now, only the person who has the appointment can attend, this way we can ensure that there are a minimal number of people within the treatment room at any one time – just the therapist and the person receiving the treatment.
All tools and equipment will be, as they always have been, disinfected and sterilised in line with the specific manufacturers' instructions for your safety. There will be many sets of tools to ensure there is always a clean and sterilised set available.
Wherever possible we will utilise environmentally friendly, single use items during a treatment that will be disposed of safely after use in order to protect you from cross infection.
For nail treatments, your nail file, buffer, orange stick and nail brush will be popped into a bag and labelled after your treatment for use next time you visit. This will prevent us from having to discard these items after use as sanitising them is no longer adequate (it's also better for the environment!).
Our therapists will be wearing a disposable apron, a mask, visor and disposable gloves (where appropriate) for every treatment and the gloves, apron, mask and visor will be changed after every client. We kindly ask all clients to arrive wearing a mask.
There will be no hand dryers or fabric towels, we will now only be offering disposable hand towels for you to dry your hands with which must be disposed of in the pedal bin provided. You will be asked to use the hand sanitiser provided before you enter the treatment room. You are welcome to wash your hands at any point throughout the duration of your visit, if you so wish.
We can confirm that the laundering of towels and uniforms is a priority and we can assure you that all laundry is washed at 60 degrees C. All towels are changed after each client and our uniform is changed daily. Uniforms and shoes will only be worn in the clinic and not outside, on public transport, in the street, in other shops etc.
All disposable items are bagged and safely removed from the treatment area daily or sooner if the bin is full. Sharps boxes are used for the disposal of sharps and other waste is bagged separately ready for collection from our waste disposal contractors.
No refreshments will be served during this time; you are welcome to bring your own bottle of water with you to drink during your treatment.
Dyson air purifiers are situated throughout the salon to ensure adequate ventilation.
*******
With all of these changes and added hygiene and safety measures comes a cost. Due to high demand, the cost of PPE and consumables has sky rocketed. We have taken the difficult decision to raise some of our treatment prices slightly and to charge a small fee of £2.50 to each client visiting the clinic to help cover these costs. This cost will be reviewed regularly as government guidelines change and running costs come down.
You can find our full list of services and prices on our website here: www.theretreatberwick.co.uk
*******
Treatments
We have carried out a risk assessment on all treatments and we are confident that we can continue to provide these safely. However, according to the current government guidelines we will NOT be allowed to work on the face until further notice.
ONLY the following services will be available:
Body Waxing
Body Massage
Manicure & Pedicure
LipoFirm Body Treatments
Body IPL Hair Removal
Body Blemish Removal


During your treatment
We understand the importance of hand hygiene and we will ensure that we wash our hands in accordance with NHS recommendations before the start of your treatment, and prior to putting our gloves on. We will repeat this hand washing process as necessary and always between clients.
We will do everything we can to make your treatment as safe, comfortable and enjoyable as possible. If you have any concerns about your treatments please let us know and we will do what we can to make you feel more at ease.
After the treatment
Once your treatment is complete, you can remove your items from the plastic box and your therapist will escort you back to reception. You can then pay for your treatment, purchase any retail and make your next appointment. The salon will then be thoroughly cleaned before the next client(s) arrive.
We will not be accepting payments by cash or cheque at this time. All payments must be made by card. (This will exclude Tim, who will continue to take payment separately.)
Retail items are available to purchase, even without an appointment. Please call or email your order through and we'll email you a secure payment link. We will let you know when your order is ready and arrange a collection time.
All of these procedures have been implemented for your safety and ours. We will continue to take advice from the Government and the NHS regarding safe practice and will amend these guidelines as necessary. If any amendments need to be made we will inform you immediately.
Thanks you for your understanding, we look forward to seeing you soon.
The Retreat Team
The Retreat Professional Health & Skincare Clinic
11 July 2020