As the nights draw in and winter creeps up on us we are all guilty of assuming our skin is now safe from the damaging rays of the summer sun. Not so! Our skin is at risk from sun light, not just sun shine meaning it's really important to protect your skin rain or shine. UVB rays from the sun are absorbed by the upper layers of the skin, which causes sunburn and in turn can cause skin cancer; while UVA rays penetrate into the deeper layers of the skin, damaging collagen and polluting the skin causing premature ageing.
The most important reason to protect your skin is of course to lessen the risk of skin cancer. A massive 86% of melanoma cases are preventable* so taking this simple step to protect yourself is a no brainer. You can read more about skin cancer and early detection on www.skcin.org .
As well as skin cancer prevention, did you know it is estimated that around 80% of all of the signs of ageing are caused by the sun? Fine lines & wrinkles, pigmentation marks and uneven skin tone are all associated with sun damage. Lucky for you, we have a great selection of non-greasy, broad spectrum Medik8 sunscreens. It's never too late to start! As well as sunscreen we also offer IPL to treat pigmentation which you can find out more about here.
*Cancer Research UK 2018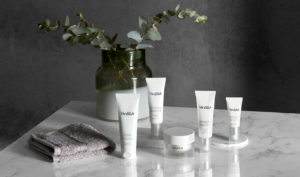 PHYSICAL SUNSCREEN – Anti-Polution, Broad Spectrum SPF30
This ultra-sheer sunscreen is the perfect base for makeup; skin is left protected, hydrated and supple.
ADVANCED DAY TOTAL PROTECT – Anti-ageing moisturiser, SPF30, 5* UVA
Fast absorbing and deeply hydrating, this sunscreen helps fight off fine lines & wrinkles for a smooth youthful looking complextion.
WHITE BALANCE EVERYDAY PROTECT – Brightening Oxy-R Cream, Broad Spectrum SPF50
Sun damage is the number one cause of uneven skin tone and pigmentation. This daily moisturiser is ultra-sheer and quick to absorb. It's patented oxy-r technology helps correct pigmentation whilst light reflecting pigments create instant luminosity.
DAILY RADIANCE VITAMIN C – C-Tetra Antioxidant Cream, SPF30
An all-in-one moisturiser and broad spectrum sunscreen that boosts radiance for a healthy glow.